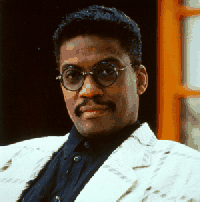 Herbie Hancock was born April 12, 1940, in Chicago, Illinois. Hancock grew up in a musical household. He was classically trained on the piano, which he began playing at the age of 7. By age 11, he was performing with the Chicago Symphony. He soloed in the first movement of a Mozart piano concerto. He got into Jazz music in high school. Hancock attended Grinnell College where he majored in Piano and Electrical Engineering. This background prepared him well for the electronic age in music.
In 1961, after studies at Grinnell College, Donald Byrd invited Hancock to New York to join his group. At this time, he was doing session work for Blue Note Records during the day and played with Donald Byrd at night. Shortly after, Hancock was offered a solo contract by Blue Note Records. In 1963, he released his debut album Takin Off which featured the classic that we all know and love, "Watermelon Man." Soon after this, he began his 5 year career with the Miles Davis Quintet. Near the end of this 5 years, the group began moving into Jazz-rock.
In 1968, Hancock formed his own sextet. This group became very influential in the Jazz-rock movement in the early 70's. His fusion band blended African, Rock, and Asian influences. Due to money troubles, the group became a quartet in 1973. Their style began to shift more towards a jazz-funk fusion style. Their first release, "Headhunters" went on to become a jazz classic.
Hancock's musical curiosity and diversity continued to display itself. I remember, in 1983, hearing and seeing "Rockit" for the first time. Both the song and the video were very novel creations. He teamed up with Foday Musa Suso on the live 1986 album Jazz Africa. In the same year, Hancock appeared in the film Round Midnight and wrote the score for which he won an Oscar. Hancock continued to compose soundtracks. Two of his credits are Colors and A Soldier's Story. Hancock has one many awards and much acclaim over the course of his career. He has continually experimented with all forms of music. Hancock said that he looks for the good in music. These are some of the attributes that I personally like in Herbie Hancock.