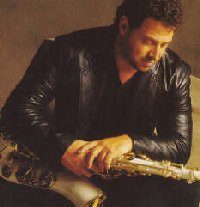 Music has always been a part of Richard Elliot's soul. Growing up, Elliot was a devout fan of rhythm and blues. Unbelievable, but as a teenger, Elliot toured Europe backing up Natalie Cole and The Pointer Sisters. Afterwards, he joined he joined a fusion ensemble named Kittyhawk. Richard Elliot did some studio work with some of the all-time greats: The Temptations, Smokey Robinson and The Four Tops. His next break came with the Yellowjackets. In 1982, he joined The Tower of Power, with whom he played for 5 years. Elliot referred to these years as the most influential years of his career.
In 1987, Elliot decided to go solo, releasing his first album on Enigma Records. He would release 4 more records under this label. He would go on to release 5 more titles (so far) under the Metro Blue/Blue Note label. His latest release, Jumping Off, is his 10th solo release.
Richard Elliot is very soulful, sexy sax player. Every tune he belts out has feeling to him. I could tell this when I went to see him perform. I have seen many jazz shows, and the Sax and Guitars show with Marc Antoine, Kirk Whalum, Jonathan Butler and Richard Elliot was the greatest show I have ever seen. Elliot was the star of the show. He is very energetic and goes out of his way to make sure everyone enjoys the show. He's a must see!