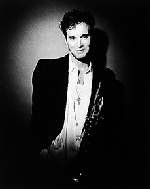 Rick Braun is a native of Allentown, Pennsylvania. The trumpet was his third instrument choice growing up - the drums were his first and the violin his second choice. But, according to Braun, the trumpet was easier on the ears of his family. I am thankful for his family brcause he has turned out to be one of the greatest trumpet players ever; he's up there with Miles Davis.
All through school, music has been the driving force in Rick Braun's life. After high school, he attended the prestigious Eastman School of Music. While attending this school, he formed a jazz-fusion group named Auracle. This group soon disbanded. In addition to being a musician, he was a songwriter. It was in this endeavor that he got his first break. He wrote the song "Here With Me," by REO Speedwagon, which hit the Billboard Top 20.
Braun has had a wonderful musical career. He has toured with such stars as Sade, Phoebe Snow, Tina Turner, Rod Stewart, Tom Petty, Natalie Cole, Glenn Frey, War and probably others. After joining Mesa/Bluemoon, Rick released solo albums. In 1993, he realeased his first solo album - Intimate Secrets. In 1994, he released Night Walk. Night Walk was influenced heavily by his times with Sade. In 1995, he released Beat Street (a wonderful CD). Beat Street was influenced by his times with War. In 1997, Braun released his classic album, Body & Soul.
Rick Braun has reintroduced the trumpet - he has proven that you don't have to play a saxophone to play smooth, sexy, wonderful music. I hope he continues to put out wonderful music for years to come.